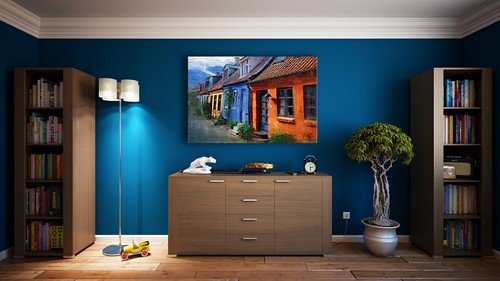 Photo by Ferenc Keresi via Pixabay
Color can – and should – be used to decorate your home, but for most of us, too much bright color is more obnoxious than invigorating. Those screaming bright yellow walls may look amazing in the magazine spread, but you may not be prepared to live with that much color in your own space. Opting for colorful accents instead of going all in and painting a room a bright tangerine, violet or apple green can help you create an appealing space that is comfortable but not overwhelming.
5 Ways to Incorporate Bright Colors in your Home
Bright colors can be most appealing and impactful in smaller doses, according to HGTV. Learning how to incorporate them into your home without creating a chaotic and overwhelming space is key to using bold, lively shades in your décor.
Create an accent wall: A single wall painted with bold color or adorned with a bright, patterned wallpaper can become a focal point. It is also an inexpensive way to make a colorful statement without overwhelming your space or your bank account. Best of all, because you are only painting or covering a relatively small space, you can splurge on amazing paper or paint products.
Use textiles: You don't have to buy brightly colored furniture to make a splash in your space. Use bright throws and accent pillows to liven up the room instead. These accents are easily swapped out if you decide you need a more traditional look and are easy to switch for different seasons or holidays, too.
Invest in art: A striking large canvas or mural can be an amazing focal point for your room and pull things together. Consider one large or several small pieces to light up your space and create an intriguing and appealing look for any room in your home.
Use rugs and flooring: Area rugs in a single bright color or with lots of color and texture can add a punch of color to any room, without overwhelming it. Use a rug to pull the room together with a new color you want to try, without committing to permanent changes.
Choose decorative accents: Home stores and sites abound, so if you want to test out a color, you've got many ways to do it. Choose your preferred color or palette then look for accent pieces from candles and picture frames to sculptural elements and tablescapes.
Before you commit to painting a wall or room, test out colors you think you like in smaller, more easily removed items, like the ones described above. This will help you determine your personal comfort level with bold colors and allow you to create a space that is uniquely yours.